RutaVaLa Roll-On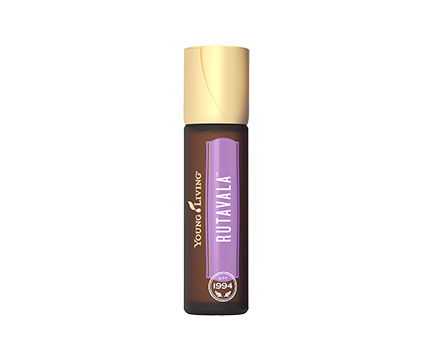 The soothing aroma of RutaVaLa is conveniently available in a roll-on applicator you can carry with you. Whether you've had a busy day or are feeling a little down, RutaVaLa can help lift your spirits with its calming blend of Ruta, Valerian and Lavender essential oils. Pop this handy roll-on into your pocket, purse or briefcase and you'll be ready to face whatever your day brings. RutaVaLa encourages you to let negativity go so that positivity can flow through your body and soul.
Ideal to bring to yoga class, the office or on a business trip, RutaVaLa Roll-On has already been diluted with coconut oil. Roll directly on your wrists or nape of the neck to create a sense of peace and calm.
---
Product Tips:
Apply to the soles of the feet to help relax before bedtime.
Roll on your wrists and breathe in the peaceful aroma with the sweetness of lavender and crispness of Rue.
Pop it in your yoga bag to enhance a feeling of Zen.
Use it in the evening just before bed
Commonly used with: Peace & Calming essential oil blend, Lavender essential oil, and Forgiveness essential oil.
Retail Price: $60.86
Wholesale Price: $46.25
---
---
How to Use
Apply topically.
Caution: Keep out of reach of children. Refer to the product label. If pregnant or under a doctor's care, consult your practitioner.
Storage: Keep in a cool, dark place.
---
---
Ingredients
Lavandula angustifolia (Lavender) oil, Valeriana officinalis (Valerian) root oil, Ruta graveolens (Rue) oil