Relieve It Essential Oil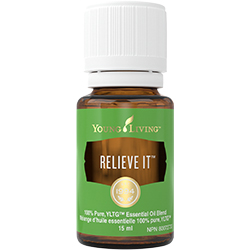 Relieve It™ is a comforting blend of pure Black Spruce, Black Pepper, and other essential oils that combines. This deeply relaxing, warming blend feels soothing and comforting to muscles and joints following exercise and is the perfect substitute for Deep Relief.
In Aromatherapy, Relieve IT can be inhaled or used topically:
To reduce the symptoms of colds and cough
As a carminative and antispasmodic for symptomatic relief of digestive discomfort
To help relieve headaches
In Aromatherapy, Relieve IT can be used topically:
To help relieve joint or muscle pain associated with sprains, strains & rheumatoid arthritis
---
Product Tips:
Combine with Copaiba to magnify the effects during a post-workout massage.
Give yourself a much needed massage and alternate the warming feeling of Relieve It with the cooling sensation of PanAway.
Diffuse or inhale Relieve It for an uplifting and energizing mid-day pick-me-up.
Dilute with V-6 and use as a compress for deep tissue relief.
Commonly used with: Copaiba essential oil blend, PanAway essential oil blend, and V-6 Vegetable Oil Complex.
Retail Price: $79.61
Wholesale Price: $60.50
---
---
How to Use
Topical: Mix 5 drops of Relieve It oil in 5ml (1 teaspoon) of carrier oil (preferably V-6™ Enhanced Vegetable Oil Complex). If a larger quantity is desired, maintain a ratio of 1 drop to 1 ml carrier oil. Apply to affected area up to 3 times per day. Do not use essential oils undiluted. Not for oral use. Avoid contact with eyes and mucous membranes; if this happens, rinse thoroughly with vegetable oil.
For headache, carminative/antispasmodic, and colds/cough through inhalation administration: Apply 1- 6 drops of undiluted essential oil to a handkerchief/tissue and inhale occasionally. Use up to 3 times per day.
Caution: Keep out of reach of children. If accidental ingestion occurs, seek urgent medical attention or contact a Poison Control Center. If symptoms persist or worsen, consult a health care practitioner. If you have epilepsy or asthma, consult a health care practitioner prior to use. Do not expose the applied area(s) to the sun for 24 to 48 hours after application.
Be sure to follow label instructions. Click here to view Relieve It label.
---
---
Ingredients
Medicinal Ingredients: Black pepper essential oil (Piper nigrum – Fruit) 38.768%
Non-Medicinal Ingredients: Picea mariana leaf essential oil, Hyssopus officinalis leaf essential oil, Peppermint essential oil.