Nutmeg Essential Oil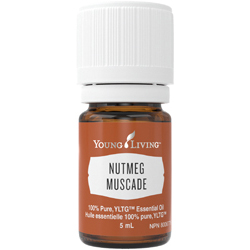 Nutmeg has a warm, spicy aroma that is energizing and uplifting. Extracted from the fruit and seeds by steam distillation, the fragrance of Nutmeg oil is sharp with a slight musky note and has become popular in perfumery. Nutmeg has a long tradition of topical support for seasonal aches and pains, especially when combined with massage or a hot bath. Aromatically, this oil stirs the senses and helps to relax the body and mind. Nutmeg blends well with other oils such as Orange, Clary Sage, any Eucalyptus, and Ginger.
In Aromatherapy can be used topically or inhaled:
to act as a nervine and calmative which enhances relaxation.
to help relieve joint or muscle pain associated with sprains, strains & rheumatoid arthritis.
when experiencing digestive discomfort can act as a carminative and antispasmodic.
Retail Price: $22.04
Wholesale Price: $16.75
---
---
How to Use
Please refer to specific label instructions for how to use tips and information.
---
---
Ingredients
YLTG nutmeg essential oil (Myristica fragrans)