DiGize Essential Oil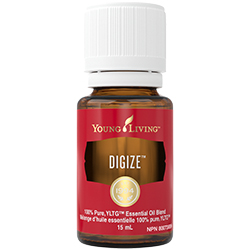 DiGize™ is a blend of pure tarragon, ginger, pepppermint, and other essential oils that may bring about calming feelings.
In Aromatherapy, can be used topically or inhaled:
As a carminative and antispasmodic for symptomatic relief of digestive discomfort
Retail Price: $55.26
Wholesale Price: $42.00
---
---
How to Use
Diffuse, directly inhale, or dilute and apply topically.
Be sure to follow label instructions.
Click here to view DiGize label.
---
---
Ingredients
tarragon, juniper, anise, ginger,fennel, patchouli, peppermint, lemongrass